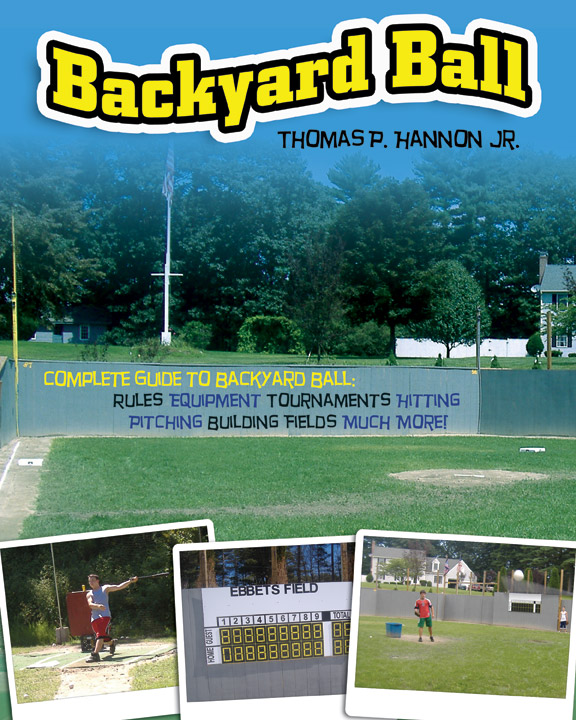 How I built Little Ebbets Field
Wiffleball is a game most all of us have played, as kids or adults. I started playing Wiffleball when I was a kid growing up on Cape Cod. I have thousands of memories of long summer afternoons playing with my dad and my 'summer' friends.
As inevitably happens, I moved on to other things. Then in 2006 I went to The World Baseball Classics at Petco Field in San Diego. Tucked in the outfield was a beautiful wiffleball field full of little kids. Memories came flooding back. I was determined to hang on to them.
I came home and build a wiffleball field in my backyard. After a few summers, that wasn't cutting it so I sold my house and moved to a new one with a yard that had the room to build my dream Wiffleball Stadium. My gem was Little Ebbets Field, a replica of Ebbets Field. I built the majority of the field myself. The project was actually featured on NECN and in The Boston Globe.
My family and I went on to host thousands of games, tournaments and charity events.
I wanted to share my story, so I wrote the book Backyard Ball. This is a fun, how-to book filled with images, stories and more about a dozen years I spent playing Wiffle Ball and Building Fields. Start your backyard fun today!
Order Now!
About the Book
Product details
Paperback: 70 pages
Publisher: BookSurge Publishing (June 3, 2009)
Language: English
ISBN-10: 1439234523
ISBN-13: 978-1439234525
Product Dimensions: 8 x 0.2 x 10 inches
Shipping Weight: 6.4 ounces (View shipping rates and policies)
Endorsements
I really love this book - it has so much information and love for the game to convey, but it remains an easy, enjoyable read. There are different options for rules spelled out, and everything from how to throw a sinker to where to buy any kind of scoreboard. It's very unique, very well done. I leave my copy laying around and my friends are always going through it and finding something new.
– Jim Reid
I always thought that I was an above average wiffleball player, but after reading this book I have learned a lot about the game. Theres different strategies that I had never even thought of in terms of hitting and pitching that have improved my game. Now i'm even thinking about building my own field much like the author's. I recommend this book to anyone who plays wiffleball or wants to learn the game.
– Eric Elander
I recently purchased this amazing book about a week ago and I was extremely pleased with it. As soon as I picked it up I couldn't put it down. I was completely enthralled by the unique knowledge and pure talent that riddled each and every page of this book. I was astounded by how much I learned from this book! I play Wiffleball every weekend with many players that possess years of experience and even they were blown away by some of the things they discovered from the book. The author covers every single topic pertaining to the sport and gives insightful details on how to perfect your game to the highest level of your capabilities. I played that same day after finishing the book and I practiced some of the techniques I read about and could immediately feel that my game was improving. My friends I were also so inspired by the author's passion, that we're working with our local community to build a Wiffleball field so that the families in our neighborhood can all participate in the wonderful and team orientated game.
– Shawn C. OBrien
Disclosure of Material Connection: Some of the links in the page above are "affiliate links." This means if you click on the link and purchase the item, I will receive an affiliate commission. I am disclosing this in accordance with the Federal Trade Commission's
16 CFR, Part 255
: "Guides Concerning the Use of Endorsements and Testimonials in Advertising."